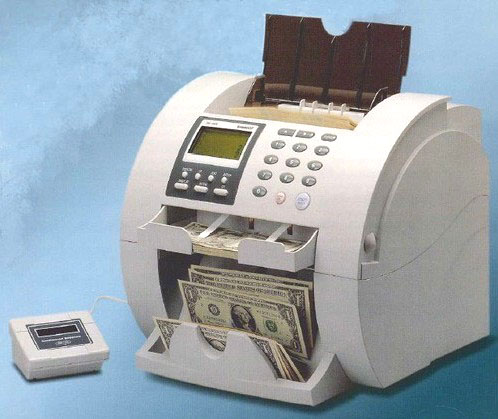 Description:
Shinwoo SB-1000 currency discriminator / currency counter with enhanced image pattern recognition technology. Counts and identifies mixed notes, value-counts by denomination or sorts by face and orientation. Reliable suspected note detection option by magnetic, UV or infra-red. Large graphics LCD and user-friendly interface. Easy to maintain all sensors and programs can be checked and tested.
Has serial printing option.
Has external connectivity.
Discriminates by mixed/single/face/orient/count.
Self diagnostic.
Product Specifications
Currency USD
Count Speed 400/800/1000/1200 notes-per-minute.
Present Batch 100,50,25,20,10 (from 1~999)
Display Large Graphic LCD
Accepted Notes Sizes 100-185 mm W, 60-100 mm H. Thickness: 0.08 - 0.12 mm
Hopper Capacity 300
Stacker Capacity 200
Upper Pocket Capacity 70
Counterfeit Detection Method Ultraviolet (UV), Magnetic (MG) and Infra-Red Counterfeit Detection
Dimensions (W X D X H) 312mm W x 321 mm D x 289 mm H
Weight 29.7 lb.
Power Supply 100-240 VAC, 50/60 HZ
CONTACT U.S. BANK SUPPLY FOR QUOTE: 805-218-6106.