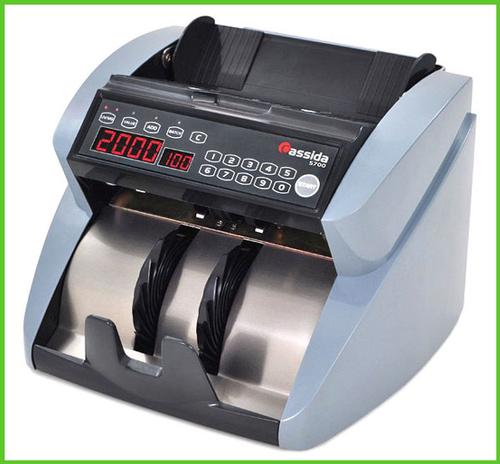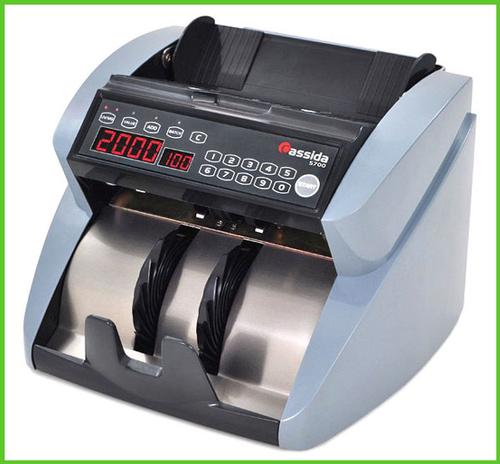 Click an image above for alternate display
Description:
The Cassida 5700 Series professional Money Counting Machines - Models 5700 UV and 5700 UV/MG - incorporate the industry's first bill flipper design, combining the ergonomics of a top loading bill counter with the economical design of a back loader.

The ValuCount feature calculates the total dollar value of the count based on what you tell the machine you are counting (This is not a currency discriminator.) By activating ValuCount in the add mode, you can count different denominations, one at a time, while keeping track of the total value. The innovative bill flippers push bills directly into the hopper, eliminating the need for bills to be manually flipped, which is an industry first. Counting begins automatically when bills are placed on the hopper platform, similar to a top load counter. A large LED screen showcases the number of bills counted, as well as denominations and total count values, when using the available ValuCount feature.

The UV and UV/MG models are able to detect a wide range of counterfeit bills. Once detected the 5700 stops the count and dispenses the suspect bill into its stacker.
Error detection - double, half, chain
Auto-starting - included
Loading type - top loader
Light weight, compact, integrated handle
Count Speed 1300 notes per minute
Operating modes count, add, batch, add+batch
Batching range preset or 1-999
Hopper Capacity 250 notes
Stacker Capacity 250 notes
Counterfeit Detection Method Models 5700 UV and 5700 UV/MG
Dimensions (W X D X H) 11" x 10.7" x 8.3"
Weight 13 lbs
Power Source 110 VAC 50-60Hz.