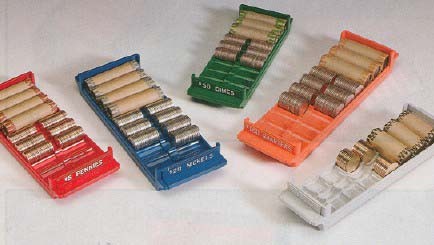 Description:
Double duty, all-purpose, coin trays.
Hold both loose coin in precise half rolls or full rolls of wrapped coin.
Denominations can be combined for quantity price breaks!
Product Specifications
Capacity: Total capacities: pennies (red) hold $5.00, nickels (blue) hold $20.00, dimes (green) hold $50.00, quarters (orange) hold $100.00, half-dollars (sand - not shown) hold $100.00, dollars (gray) $200.00.