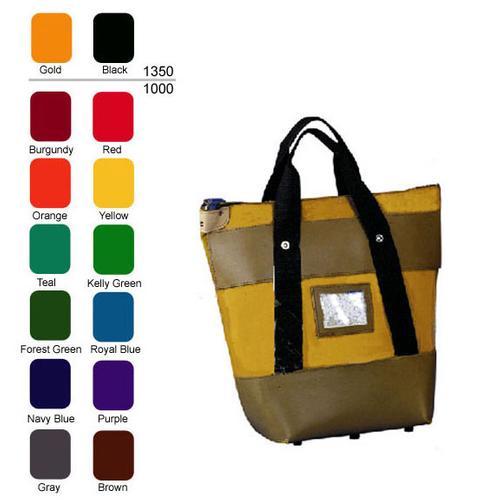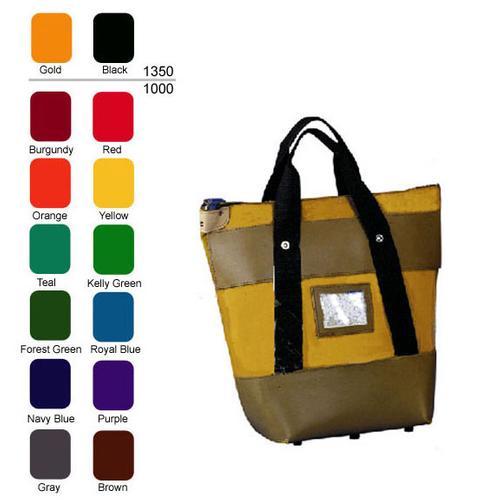 Click an image above for alternate display
Description:
Heavy-duty, high performance locking courier bags. The standard gold and black bags are constructed of puncture- and tear-resistant shells, made of 1350 Denier basket-weave ballistic nylon. The other wide color choices are made of 1000 Denier nylon.
The heavyweight 88 gauge vinyl skirt panels and double-stitched seams increase longevity, as does the rigidly constructed square-bottom, which also provides stability for easy loading.
Tough metal zipper and pop-up lock gives maximum security, with two keys per each (select keyed alike, keyed differently or master-keyed for orders of more than one). Comes with a 2.5" x 3.5" framed card holder and the hand grip enables ease of carrying.
One-color imprint charge: $30.00, but FREE for orders of 12 or more.
Price breaks also apply to orders of mixed colors. Production on bags is approximately 15 business days. (For mixed color orders of less than 10 bags per color a $.25 per bag mixed color fee will be added.)
Gold bag color without imprint in sizes 18"x18"x8", or 21"x24"x8" can be shipped in 2 business days.
Sewn bags are made to order and are not returnable.