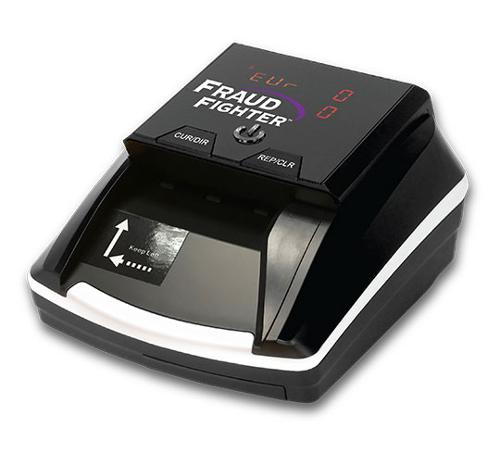 Description:
The FraudFighter CT-250 is an automatic counterfeit money detector used to authenticate US Dollars. The unit mechanically pulls the banknote being tested through its testing area, where it utilizes 5 different authentication methods to check the authenticity of the note, by reading certain types of Machine-Readable Characters printed in both visible and invisible inks.
The CT-250 also reads and deciphers magnetic characters. After identifying the type of note, the CT-250 confirms that the length, width and thickness of the note are correct.
The CT-250 is designed for use in high-volume transaction environments. Each banknote can be tested in less than 0.5 seconds.
Key features and advantages:
Authentication of US Dollars by checking 5 different types of currency security features
Uses three sets of magnetic, infrared and UV sensors to conduct more tests on each banknote
Feed the bills in any direction
Automatic recognition of denomination
Complimentary software updates whenever a currency change occurs
FEATURES & SPECS
Bill Authentication Speed: <0.5 seconds per bill
Input Power: AC 100V~240V 50/60 Hz or DC 12V/1.0A
Dimensions
Width: 5.4 inches (137mm)
Height: 2.3 inches (82mm)
Depth: 6.1 inches (155mm)
Net Weight: 1.1 lb. (500g)
Authentication Methods
Ultraviolet (UV)
Infrared Reflex (IR)
Magnetic (MG) Ink
Paper Quality
Bill Measurement
Display Type: LCD Display
Warranty Info: The CT-250 units are warranted to be free from material and workmanship defects for a period of one (1) year from the date of original purchase.
Supplier's limit of liability under this warranty is to repair or replace the product at Supplier's option. Consequential costs such as, but not limited to, loss of use, loss of time or freight charges are not covered. Any product that has been abused, altered, tampered or incorrectly operated is not covered. Product finish is excluded from this warranty. No other warranties are expressed or implied. We reserve the right to make changes in design, materials and specifications without prior notice. Please note if the serial number(s) can't be verified, UVeritech will no longer directly support the after-sales service and warranty.