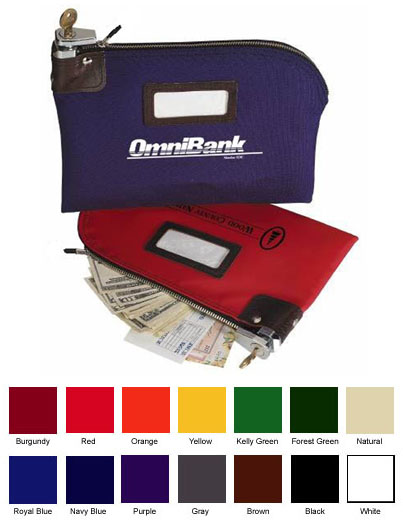 Description:
Secure your deposits with these long-lasting 14oz canvas bags. These cotton canvas bags are extremely durable. The rigid construction is designed for everyday use and night deposit.
Each canvas bag comes with a built-in pop-up lock, two keys, a card holder and nylon zipper. Select to have the locks keyed differently, keyed alike, or master keyed.
Production on these bags runs about 10 business days.
Imprinting:
For imprinted bags, check the "Custom imprint" box and select an ink color from the drop-down menu. Send the text you'd like to be imprinted on the bag in an email to orders@usbanksupply.com.
There's a one time fee of $35 for orders under 50 wallets.
For mixed color orders of less than 10 bags per color a $.25 per bag mixed color fee will be added.
Quick ship bags, with no imprint, are available in selected colors in size 12"x 9" canvas. See SKU #USND12X9CN.
RESTOCKING FEE APPLIES ON RETURNS
Sewn bags are made to order and are not returnable.