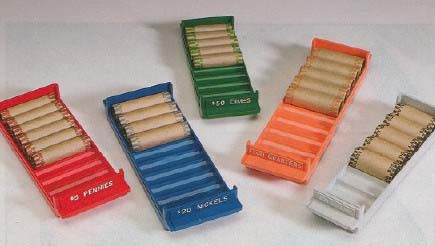 Description:
U.S. Bank Supply Rolled coin storage trays designed to hold wrapped coins or full unwrapped rolls.
Denominations can be combined for quantity price breaks!
Made of high-impact ABS thermoplastic.
Trays have handles at both ends and interlock for organized and stable stacking.
Amount and denomination is marked at both ends of tray for easier identification.
Product Specifications
Colors:red, blue, green, orange, and sand
Capacity: Penny trays (red) hold $5.00, nickel trays (blue) hold $20.00, dime trays (green) hold $50.00, quarter trays (orange) hold $100.00, half-dollar trays (sand - not shown) hold $100.00, and dollar trays (gray) hold $200.00.