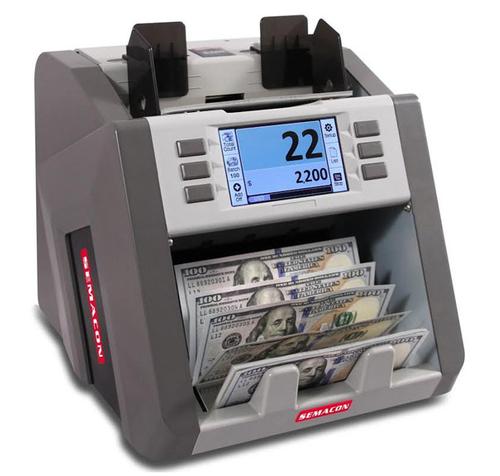 Description:
Semacon Model S2200 bank grade, single-pocket currency discriminator is designed to use in banks, credit unions, casinos and large retailers that are high-volume and where mixed bill value counting is required. It is one of the most compact single-pocket currency discriminators available and features a user-friendly color graphics touchscreen control panel. It uses SmartDetect Advanced Counterfeit Detection System, the most accurate detection in a desktop currency discriminator, and pinpoints suspect banknotes via ultraviolet, magnetic, fluorescent, metal thread and infrared detection technologies.
Friction roller feed.
SmartFeed Advanced Banknote Feed System
processes banknotes very worn to brand new.
SmartCount Screening System analyzes each note to detect all possible types of feeding errors.
SmartDetect Advanced Counterfeit Detection System.
Flexible operating modes.
Thermal printer compatible.
Constructed in USA.
Product Specifications
Currency USD
Discriminating Speed 1,000 notes-per-minute
Count Speed 800-1,500 notes-per-minute
Display User-friendly Graphic LCD
Hopper Capacity 500 notes
Stacker Capacity 250 notes
Counterfeit Detection Method - SmartDetect: Ultraviolet (UV), Magnetic (MG), Fluorescent (FL), Metal Thread (MT) and Infra-Red (IR) detection technologies
Dimensions (W X D X H) 10.25" W x 10.75" D x 11.25"
Weight 16 lb.
Power Supply 100-240VAC, 50.60Hz
CONTACT U.S. BANK SUPPLY FOR QUOTE: 805-218-6106.