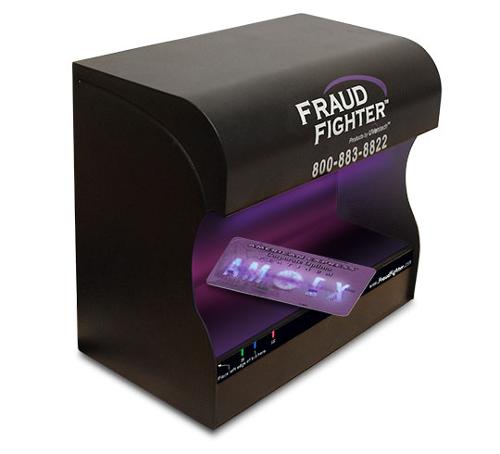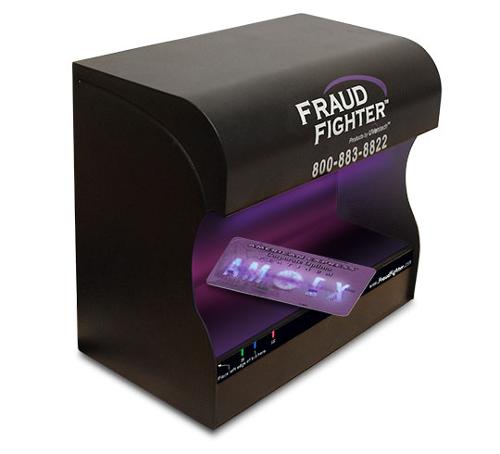 Click an image above for alternate display
Description:
The UV-16 Manual Scanner The UV-16 is a counterfeit bill detector and document authenticator. It allows the user to detect counterfeit currency, and authenticate the presence of invisible UV security features on many important documents, including: currency (US & foreign), credit cards, traveler checks, money orders, cashier's checks, driver licenses, passports, social security cards, matricula consular, and numerous other items, such as vehicle title documents, birth certificates, casino chips and more.
The UV-16 is designed for use in high-volume, highly-lit environments. The steel construction and carefully designed viewing box combine to enable the UV16 to withstand the normal wear-and-tear that may occur at a busy retail counter, while providing the user with the brightest and clearest possible view of the glowing security features made visible by the UV lights.
For purposes of this warranty statement, the Life of the Product is defined as five (5) years from the date of original purchase.
The UV-16 counterfeit detection device is warranted to be free from material and workmanship defects, as long as the original purchaser owns the unit, during the life of the product. Supplier's limit of liability under this warranty is to repair or replace the product at Supplier's option. Consequential costs such as, but not limited to, loss of use, loss of time or freight charges are not covered. Any product that has been abused, altered, tampered, or incorrectly operated is not covered. Product finish is excluded from this warranty. No other warranties are expressed or implied. We reserve the right to make changes in design, materials and specifications without prior notice.
The UV-16 is a manual counterfeit detector used to detect counterfeit:
Currency (US dollar and many international currencies) Debit/Credit Cards
US & International government-issued identification documents (e.g. Driver Licenses and Identification Cards) & travel documents (Passports, Passport Cards, Permanent Resident Cards, Visas)
Various negotiable instruments, such as traveler checks, money orders and casino chips.
Key Features and Advantages:
The bright illumination provided by two patented high-efficiency UV bulbs
The shaded viewing box makes it easier to see glowing security features on important documents
Heavy-duty steel body construction and a robust PC-board design
5-year warranty
FEATURES & SPECS
Dimensions
Width: 6.75 inches (172.0mm)
Height: 6.0 inches (152.4 mm)
Depth: 3.75 inches (95.25mm)
UV Bulb: Two 8-watt bulbs (Part #T5UV16-POS15)
Construction Material
Stainless Steel Housing
Heavy Duty 12-gauge Power Cord
Twist and Lock Bulb Sockets